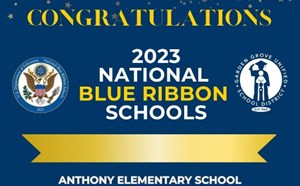 Susan B. Anthony Elementary School was designated an Exemplary High Performing National Blue Ribbon School for 2023 by U. S. Secretary of Education, Miguel Cardona.  Our school is one of 353 schools in the nation and one of 35 schools from California…
Principal's Message
Dear Parents and Scholars,  
Welcome to Susan B. Anthony Elementary School!   Anthony Elementary is a 2018 Honor Roll School in the Garden Grove Unified School District, an award-winning Honor Roll and California Distinguished District.  We are very proud of our reputation for academic excellence. Our dedicated and caring staff is committed to providing all students with the academic and personal skills that lead to lifelong learning and success. 
At Anthony Elementary, we create a learning environment where effort and achievement are celebrated.  Anthony's skilled teachers have high expectations for students and provide strong instruction combined with effective instructional strategies to ensure student have a positive learning experience.   
Anthony is committed to preparing students for success in the future.  To meet this need, we are expanding student learning opportunities in the area of STEAM (Science, Technology, Engineering, Art, and Mathematics).  In addition, we have continued to expand our use of flexible seating throughout the school to improve student skills in the areas of discourse, collaboration, teamwork and problem solving. 
Our goal is to ensure Anthony is a place where all students feel safe and experience academic success and personal growth.  To do that effectively, it is my belief that schools and families must work together as partners.  If at any time you have any suggestions, comments, or concerns, please know that my door is always open.  
The staff and I are committed to making this school year an exciting and rewarding year for your child. We look forward to working with you to ensure that your child attains their highest potential. 
Respectfully,
Tyleen Perez
Principal
Our School
The teachers and staff at Susan B. Anthony Elementary School are hardworking and dedicated to providing our students with high quality learning experiences and preparing them for a future filled with success.
Gifted and Talented Education Program (GATE)
We are proud to offer an on-site GATE (Gifted and Talented Education) Program.  GATE students are grouped in general education classrooms with GATE-trained teachers who understand how to meet the unique needs of gifted learners.  Our GATE teachers adhere to GATE Standards and attend on-going professional development training.
Technology and STEM (Science, Technology, Engineering, and Math)
At Susan B. Anthony School, STEM (Science, Technology, Engineering, and Math) is a priority.  Our staff members realize the importance of preparing students for a future in technology.  Thus we have a strong commitment to providing students with a broad and rich experience with technology. We are very proud to offer students the opportunity to use both iPads and Chromebooks with a 1:1 ratio in 1st – 6th grade and 2:1 ratio in Kindergarten and Transitional Kindergarten.   Students participate in coding, robotics, movie-making, just to name a few.  We are currently developing our new Information and Technology Center to integrate even more technology opportunities to enrich our student program. 
The Arts
In addition to our STEM focus, we are also proud to offer a strong program in the Arts.  We currently have specially trained music teachers that provide vocal music instruction weekly to all students.  Students in 5th and 6th grade have the opportunity to participate in the Susan B. Anthony Choir.  Additionally, we have an instrumental music teacher who provides instruction to students in 4th-6th grades.  Many of our exceptional musicians participate in honors choir and honors band.  In addition to music, students also participate in FIBO art instruction and workshops throughout the year.
A Certified Kindness School
Susan B. Anthony scholars and staff participate in the National Great Kindness Challenge. Students spend a week focusing on acts of kindness.  This special week engages students and the community in the importance of creating a culture of kindness.  Our students said it best, "Peace, love, and kindness is the Anthony Way."
Opportunities for Anthony Scholars
STEM Enrichment
On-Site GATE Program
FIBO Art Instruction & Workshops
Student Leadership and Student Council in grades 3-6
Weekly Flag Assembly
Monthly Awards Assemblies:  Scholars of the Month, Anthony Pride Awards
Before & After School Intervention/Support
On-Site Boys' and Girls' Club After School Program
Cultural Events & Celebrations
The Great Kindness Challenge
Coming Soon:  All New Technology Center
Parent Involvement Opportunities
Susan B. Anthony has a dedicated PTO (Parent Teacher Organization) which supports many activities during the calendar year including:  our Fall Fundraiser, Spirit Wear Sales, Movie Night, Science Night, Walk-a-Thon, our spring See's Candy Fundraiser, and Book Fairs.  Each year our PTO raises funds to provide field trips for every student.  In addition, our PTO also supports school cultural events and art programs.  We encourage parents to get involved by attending our monthly PTO meetings.  Please contact the school office for more information.
Follow Susan B. Anthony Elementary School on Twitter @AnthonyBears!